50% of St.Anton slopes are prepared for novice skiers & intermediate skiers. If you are a total beginner or novice skier we cannot stress enough that you should have ski lessons. There is a good ski school here and you will be put into a group with people that ski to the same standard as you do. You can all learn together, laugh at each other and have a great time whilst learning what is a wonderful leisure pursuit. Your instructor will only take you to slopes that are suitable for you, so you won't risk getting lost and end up on a black run that you should not be on! To really enjoy skiing you need to get to the point where you can make parallel turns to a good standard. Once at this point the mountain will become your own and you can go pretty much where ever you like on the piste. The quickest way to get to this point is to have lessons. If you can afford it then have individual lessons, if you are on holiday as a group of beginners – then book your own instructor. We have a page dedicated to the ski schools and private instructors – click here. So where can you ski if you have done some skiing before and can make good snowplough turns. Two of the three ski areas have runs that will suit you. Each of these areas has restaurants where you can stop for a rest, drinks, snacks or lunch.
St.Anton Novice Skiers – Gampen & Kapall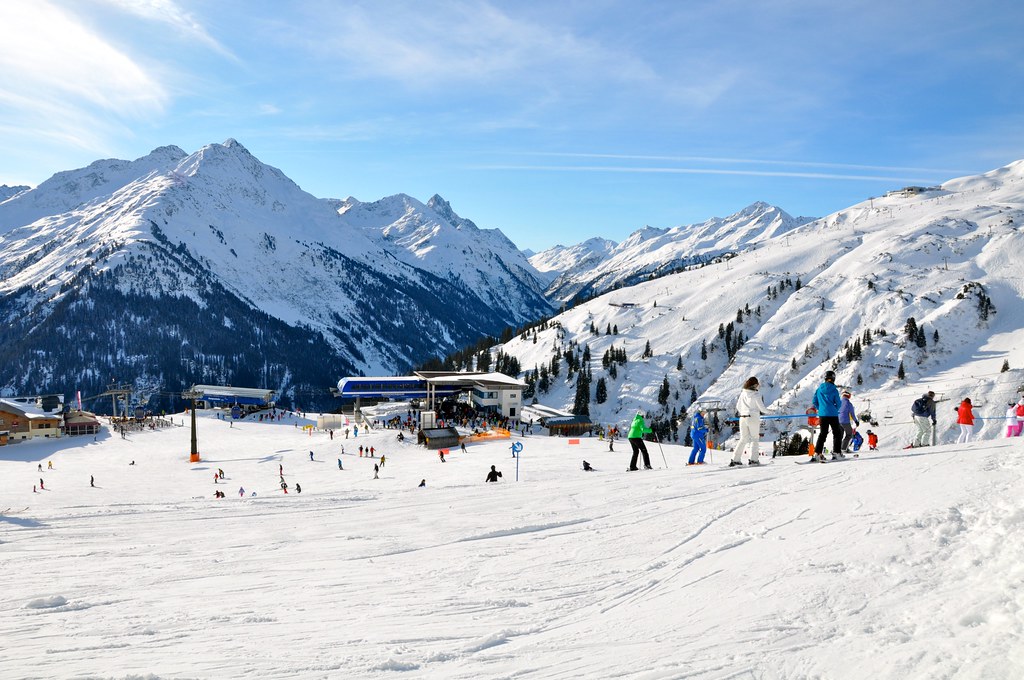 The best area for a novice skier is the Gampen area. You can reach Gampen by taking the Gampen chairlift next to the main Galzig Gondola station. If you are staying at the Nasserein end of the village you should take the Nassereinbahn Gondola. Both of these lifts will bring you up to Gampen. On Gampen you will find two beginner drag lifts on a very gentle slope that caters from absolute beginners to people practising their snowplough turns. If you are a confident snowplough skier then you can take the chairlift up from Gampen up to Kapall.
From Kapall there is a nice long blue run (no.43) that takes you back down to Gampen. To ski back to the village there are three blue runs from Gampen. The first blue 31 will take you all the way back down to the Nasserein gondola station. If you want to return to the top of the village you can take initially blue no.26 and then blue no.50 which will take you back down to the village past most of the après ski bars. Alternatively you can also take a slightly harder run – blue no.27 back to the same place but not passing the après ski bars!! There is a large self-service restaurant on Gampen and as Kapall also has a small bar / restaurant.
St.Anton Novice Skiers – Galzig
As a confident snowplough skier you can also find some nice runs on Galzig. To reach the Galzig area you take the Galzigbahn Gondola up from the top end of the village. Once on Galzig you can ski down blue no.63, otherwise known as "Blue Osthang". This is a great run for practising your turns on and it has a chairlift at the bottom to whiz you back up to the start of the run. However, this run is very popular and can get very bumpy as the day progresses. Our tip: Ski it in the mornings first thing. Another very nice run from Galzig is to ski down to St.Christoph for a hot chocolate or lunch. To get there you need to go around to the back of the Galzig lift station /restaurant. Then follow blue 64 all the way down to St.Christoph, you can not get lost skiing down here as this run only goes to St.Christoph. To return to Galzig you take the chairlift back up. As a novice skier you should take the Gondola back down to the village. Do not attempt to ski down late in the day.
Rendl
I would not recommend Rendl for the beginner, as it is mainly an area for the intermediate skier although it does have a couple of blue runs. Also it can be very cold and icy up there in the mornings. The run back down to the village is also not really for the snowplough skier.