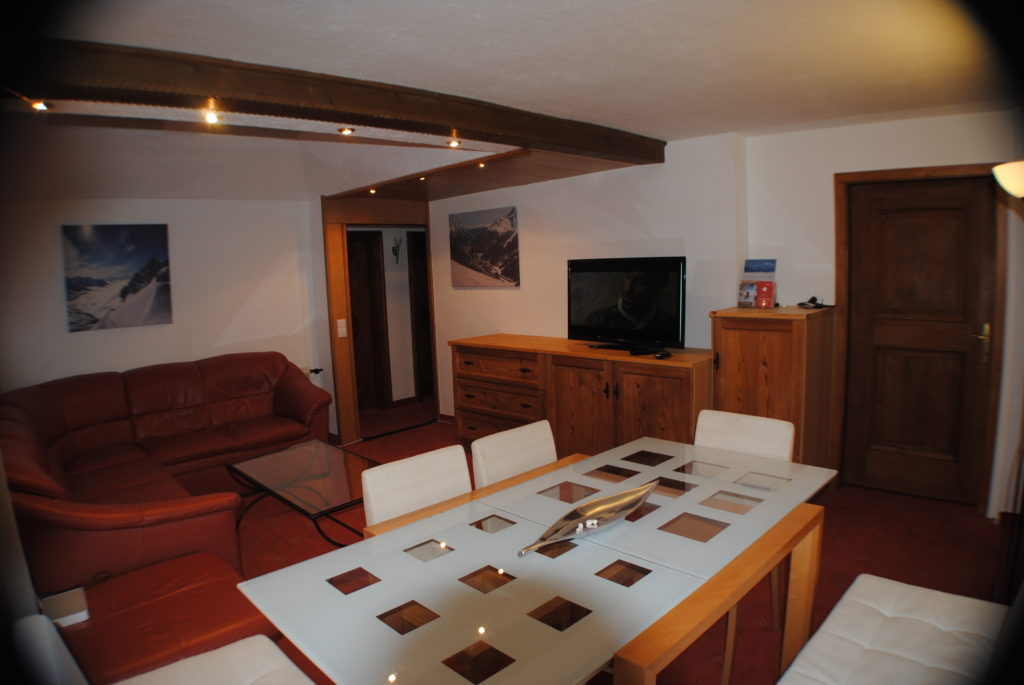 This apartment in St.Anton village centre is in one of the best spots in town. It is just 25 metres from the slopes and all three main ski lifts! It is a large four bedroom, well proportioned apartment. It will sleep 7 / 8 people – for 8 you will need at least 1 couple. The apartment has a spacious lounge / dining area with a large corner sofa. There is also a separate kitchen with balcony. It is very well equipped and is an ideal apartment for couples or a family. In the apartment you will find a washing machine, tumble dryer, dishwasher and much more. Included is unlimited high speed wifi. The entrance lobby has ski and heated ski boot storage.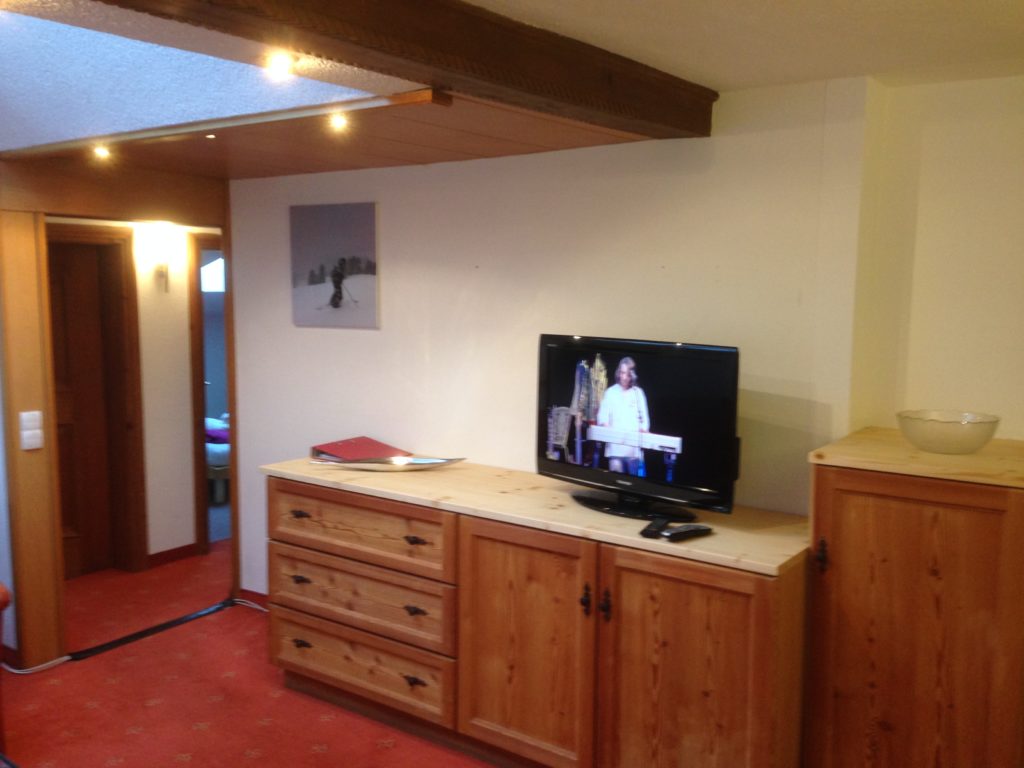 The main living area is large and features a large corner sofa and 32″ LCD HD TV. There is also a DVD player and UK Sky HD box. The sky box has Sky+ so that you can record and watch at the same time. It has all the sport and movie channels – great for kids. There are skylights in the ceiling as well as a large double window that let in plenty of natural light. For dining you will have an extendable table with dining chairs and a large corner couch that between them can seat up to 8 guests.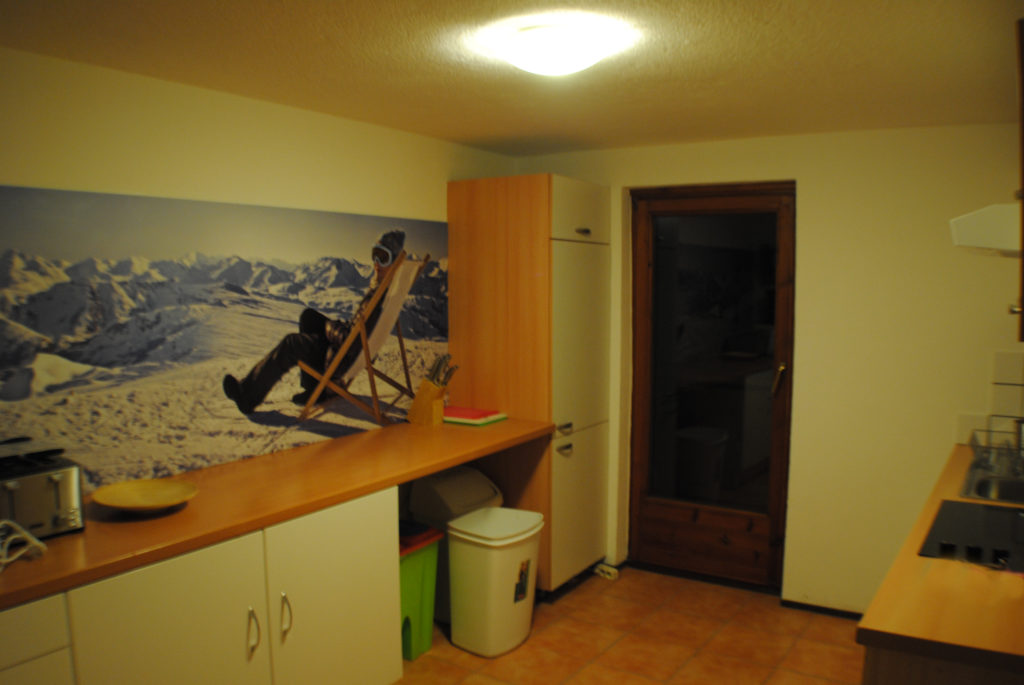 This apartment has a very good kitchen. It is fully equipped with all that you will need. This includes fridge / freezer, oven, dishwasher, microwave, egg poacher, slow cooker, kettle and toaster. There is all of the cutlery and plates etc that you will need. There is plenty of cupboard space where you will find a good supply of pans, and other cooking utensils. This is a separate kitchen, not one that is incorporated into a living area.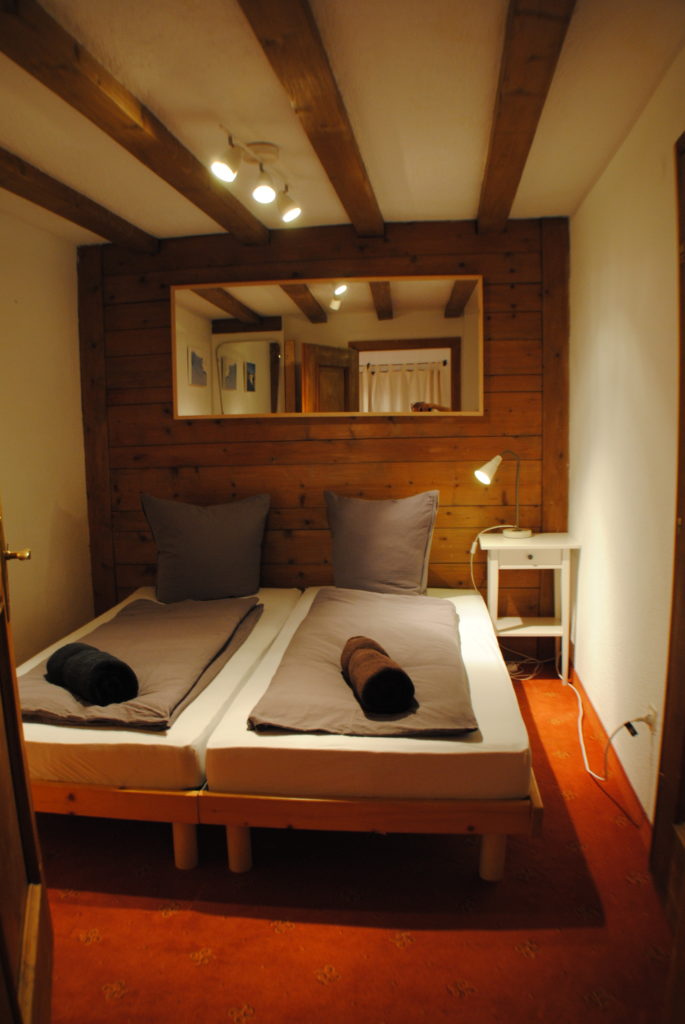 There are four bedrooms in this spacious apartment. Two of the bedrooms are twin rooms with two single beds in each bedroom. One bedroom has a standard double bed suitable only for a couple. The fourth bedroom can be arranged as a large double or 2 separate singles. There are two bathrooms, one has a modern shower and the second a bath. There is also a washing machine a dryer for your use. The bedrooms all have storage space for your clothing and ski gear. There are bedside lights by each bed and the heating is fully adjustable. We supply all bed linen as well as large & very good quality bath towels.
Location of St Anton Apartment with 4 bedrooms in village centre
This apartment is just 25 metres from the lifts to all of the St.Anton ski areas meaning that the slopes and ski school are literally on your doorstep. You will also be just a one minute walk from the centre of St.Anton where all the bars, nightclubs and restaurants are. Whilst you are very close to the centre it is not noisy in this apartment. Also you are also very close to the Swimming Pool & Spa, Arlrock (climbing & bowling centre) & Tourist Office. The railway station is 150 metres away. All of this makes this apartment an ideal place to stay if you have children. At the bottom of the page is a gallery with more photographs. We can organise your airport transfers at the very best prices.
GALLERY
"At the epicentre of St Anton activity. Mike was fantastic to work with, check in and out was incredibly easy..."Christopher Hodgkinson
"We booked this from a Thursday till Sunday and had a great stay! Mike was the best host and always..."Roger Kille
"Mike and the team were first class! Going above and beyond is an understatement, and having Mike in our corner..."Luke
"Truly enjoyed our time in the 5-bedroom unit at Sidney Reilly! The unit was large, very clean and well located...."Lauren
"Fantastic service. They make sure that your holiday runs smoothly and provide a lot of advice. Very proactive."Andrew Bradley
"My group of friends and I have done a number of ski trips across the Alps. Our trip to St...."
""Excellent service from the host Mike, the location is perfect, 5 minutes walk from the station, 3 minutes from the..."
"TAPS ski in / out apartments. "Great location, right on the ski hill, above some very happening apres ski bars...."
Have you worked with Sidney Reilly Apartments?
Rate them on SayHola