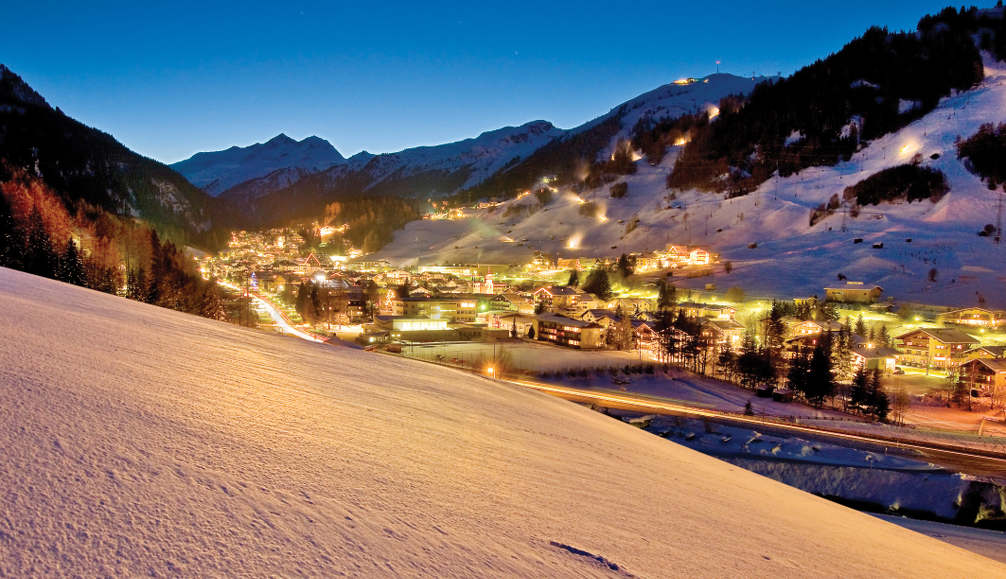 All the info for our St.Anton Luxury Apartment with Spa area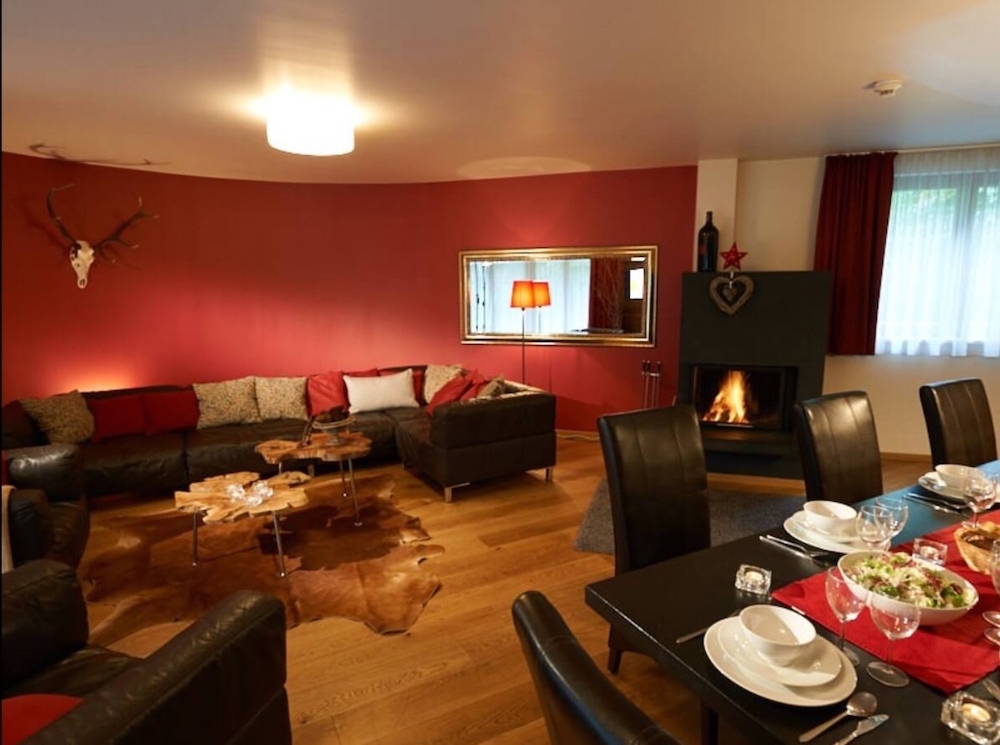 Are you looking for a Luxury Chalet with spa area in St.Anton? This large 5 star apartment will be for you – accommodation of 220 sq m over two levels. There is a spacious living & dining area with large double doors opening onto a private balcony. There is a fully equipped kitchen with all that you need for your ski holiday. The 6 en-suite bedrooms accommodate up to 15 guests, 5 of these bedrooms all have their own balcony.
Kitchen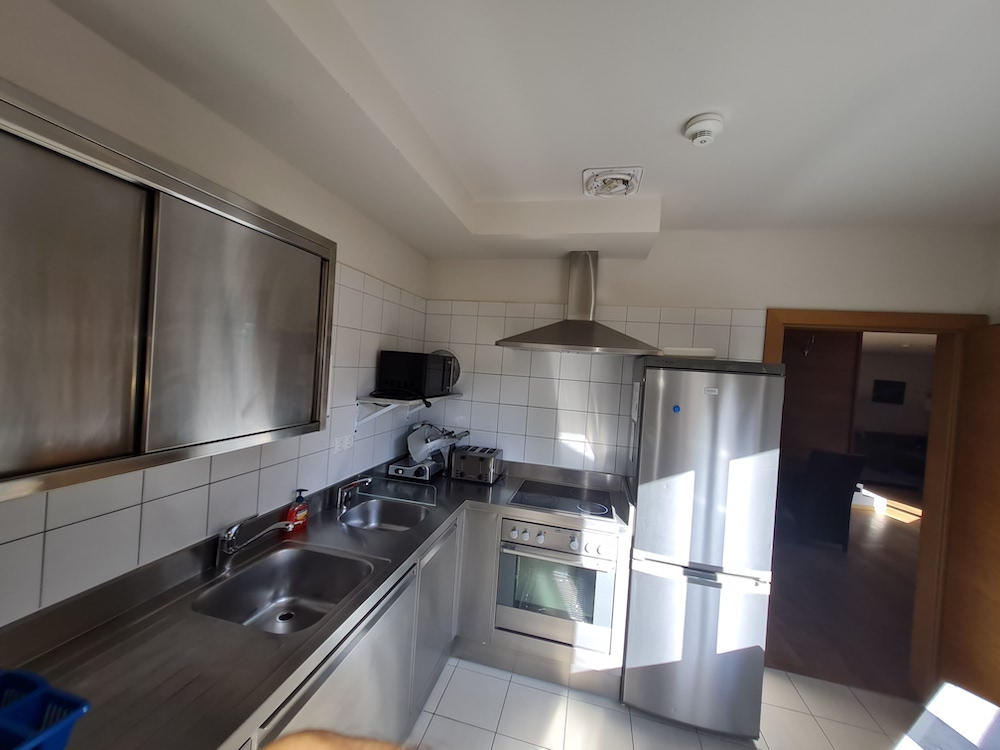 You will find that the modern and fully equipped kitchen has everything that you need. Dishwasher, Refrigerator & Freezer, Oven, Microwave, Toaster, Coffee maker, Kettle and much more. The apartment has all the cutlery and cooking utensils that you need. The kitchens are fully tiled and have stainless steel work surfaces – ideal for good hygiene and easy cleaning.
Bedrooms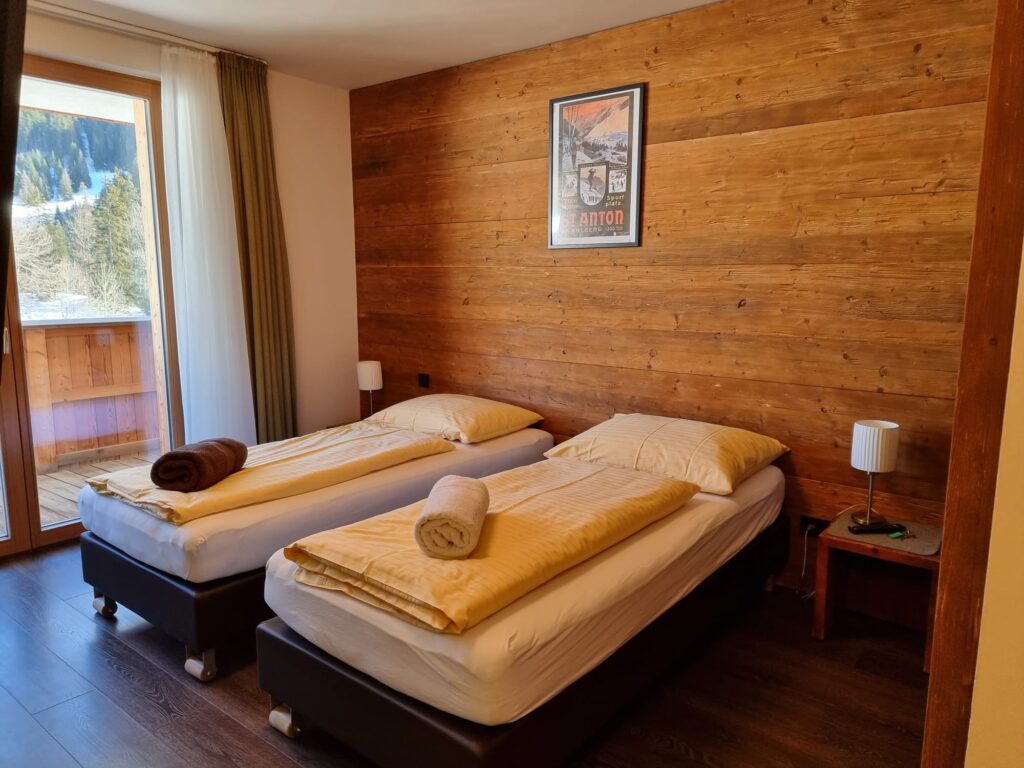 There are four en-suite bedrooms on the upper floor, one on the lower floor with the sixth bedroom being separate to the main apartment. All of the bedrooms are extremely spacious with plenty of wardrobe space. They are very modern in style, tastefully furnished with wooden floors and lots of natural wood. The mattresses are very comfortable – ideal after a hard day skiing. All of the bedrooms have lovely views of the mountains. Five bedrooms have their own balcony.
Three of the bedrooms are triples for three people and the other three can be made up as either a twin for two singles or a double for a couple. Each bedroom has a large, private balcony with views across the beautiful mountain scenery. There is also a television in every bedroom. This extremely large apartment will sleep up to fifteen guests in comfort. The perfect apartment for a large group or several families!
Bathrooms
Four of the bedrooms have en-suite shower rooms and the other two have a full sized bath with inclusive shower. All of the showers are walk in and of a good size. The spacious bathrooms are well lit and fully tiled. Large wash basins with mirrors above are fitted into each bathroom. We supply hairdryers and luxury towels for every bathroom.
Log fire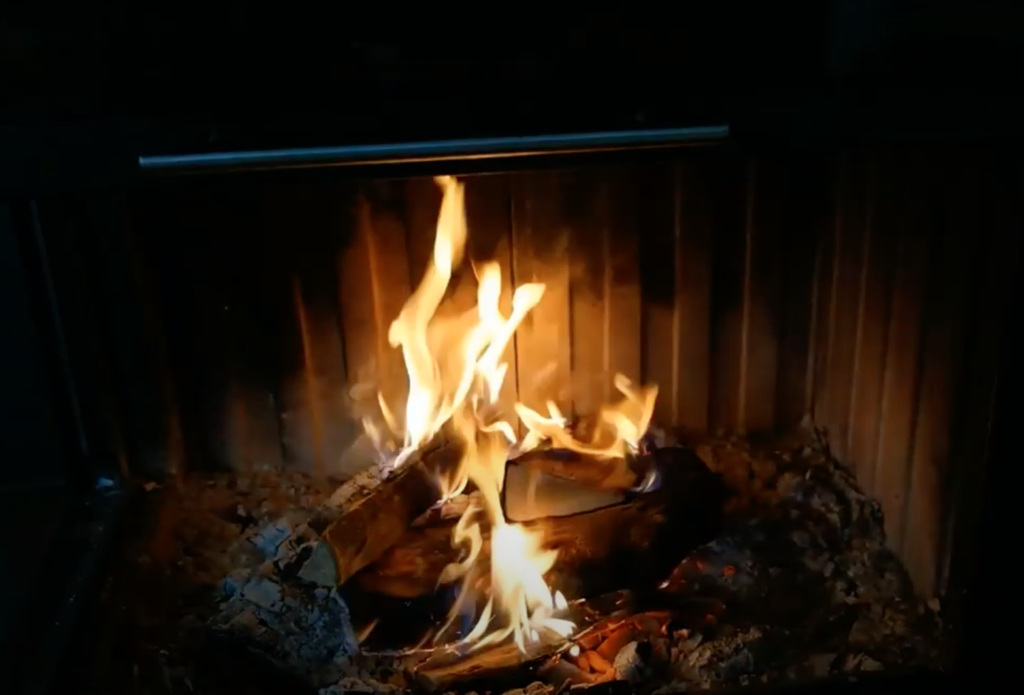 Return to your apartment after a day enjoying the world famous Arlberg ski area and light up a nice log fire. You can sit there and sip your wine whilst telling stories of your day on the slopes. The fire has a glass front for the safety of any young children. There are very few apartments in St.Anton where you will find a real fire. We of course supply logs for the fire.
Spa Area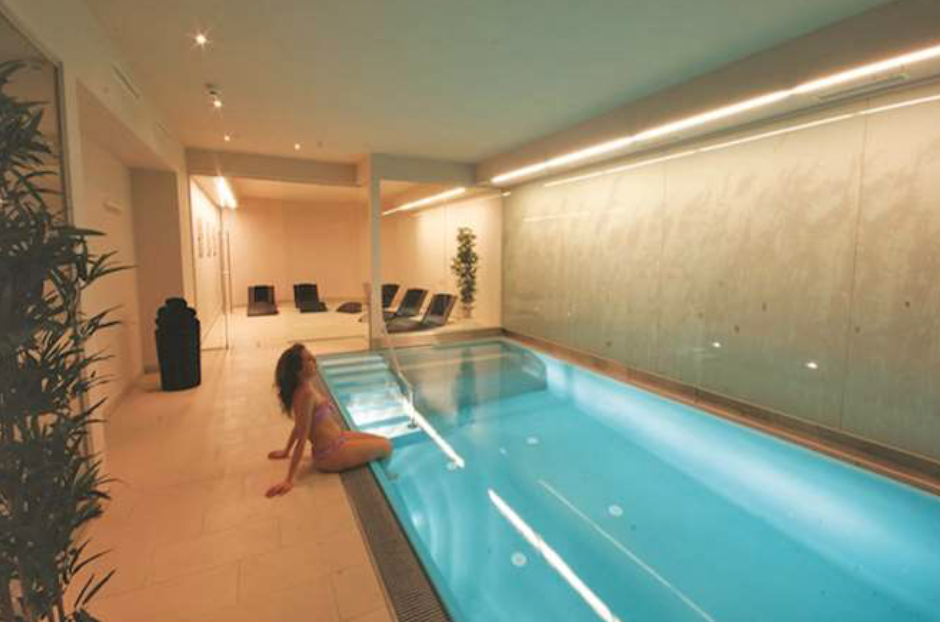 One of the best St.Anton luxury chalet with a spa area. In the basement of the apartment house there is a spa / relaxation area with swimming pool, jacuzzi, sauna and steam room. This is the perfect place to relax and chill out after a hard day on the St.Anton ski slopes. There are very few private self catering apartments in St.Anton where you will find such facilities.
Here is the layout of the St Anton luxury apartment, as you will see it is set out over two floors. On the lower floor are the kitchen, the large living / dining area along with one en-suite bedroom. The top floor has four further en-suite bedrooms.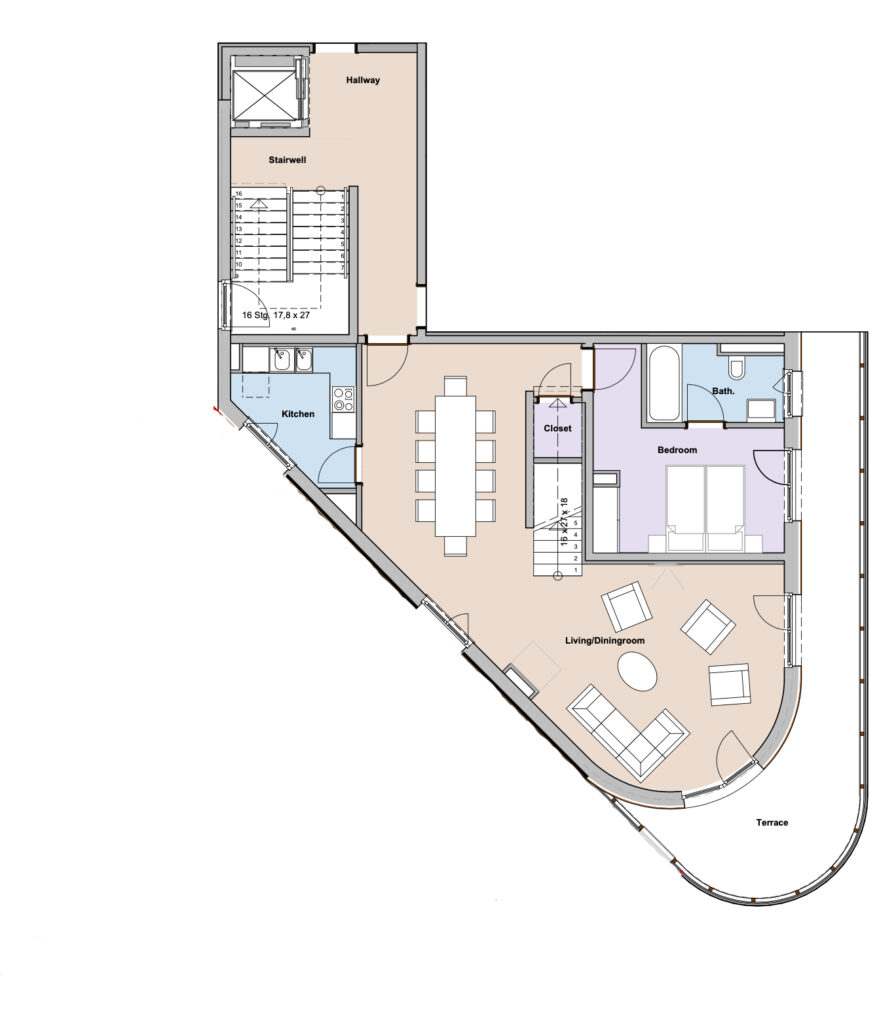 Location
The apartment is just outside of the St.Anton village centre. You will not find such large apartments with a swimming pool in the village centre. There are several very good restaurants close to the apartment. For visiting the bars and restaurants in the centre we provide a VIP taxi service – see below.
Free ski bus service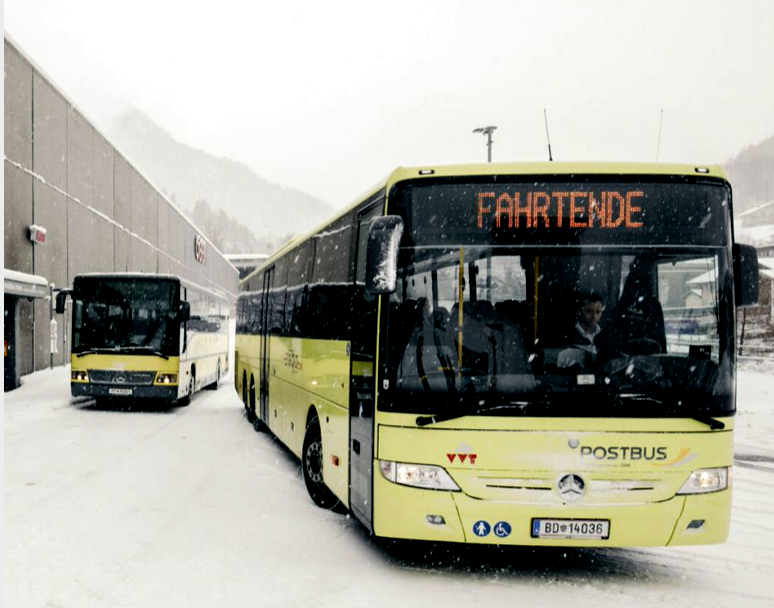 This luxury apartment is an 8 minute walk form the lifts. BUT – you do not have to walk. Every ten minutes throughout the day there is a free ski bus that stops right outside the apartment. This bus drops you right by the lifts and also takes you back to the apartment when you have finished on the slopes. It runs from 07.40 until 18.35
VIP Taxi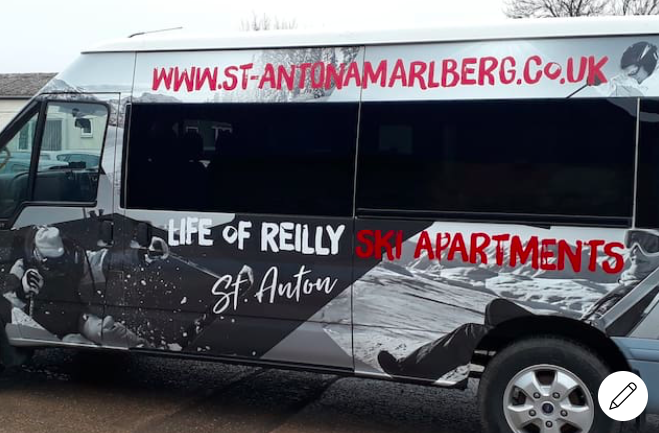 After the free ski bus service has finished we offer our guests a free VIP taxi service. We can pick you up after aprés skiing and take you back to the apartment. If you want to go to the village centre and back in the evenings we will take you and bring you back. It is free, fast and easy!
Ski & boot storage room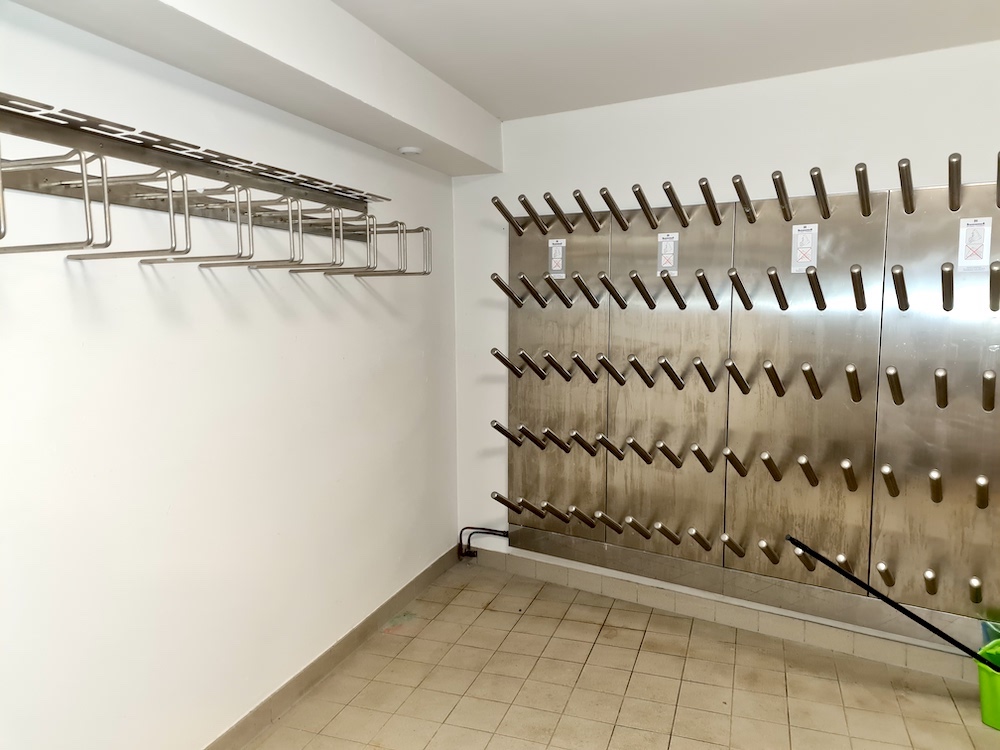 When you come in after skiing you can go straight to the ski and boot storage room to leave your skis and boots where they will be safe and secure. The boot rack is heated to dry out and warm your boots ready for the following days skiing.
St.Anton Luxury Chalet with Spa Photo Gallery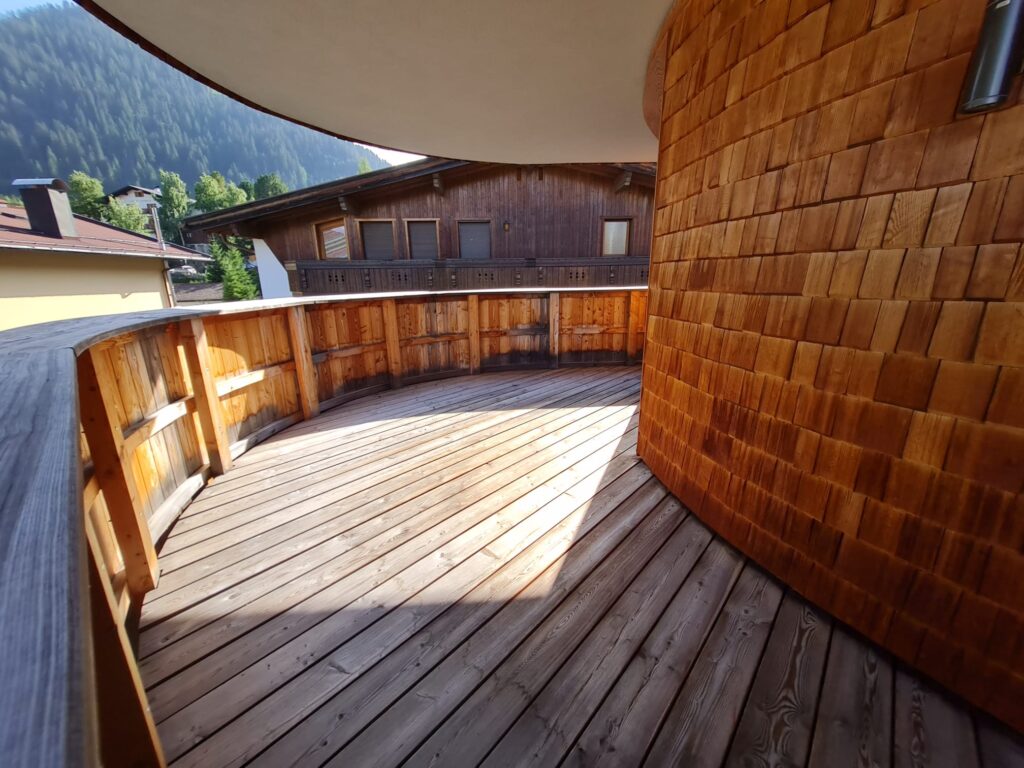 "At the epicentre of St Anton activity. Mike was fantastic to work with, check in and out was incredibly easy..."Christopher Hodgkinson
"We booked this from a Thursday till Sunday and had a great stay! Mike was the best host and always..."Roger Kille
"Mike and the team were first class! Going above and beyond is an understatement, and having Mike in our corner..."Luke
"Truly enjoyed our time in the 5-bedroom unit at Sidney Reilly! The unit was large, very clean and well located...."Lauren
"Fantastic service. They make sure that your holiday runs smoothly and provide a lot of advice. Very proactive."Andrew Bradley
"My group of friends and I have done a number of ski trips across the Alps. Our trip to St...."
""Excellent service from the host Mike, the location is perfect, 5 minutes walk from the station, 3 minutes from the..."
"TAPS ski in / out apartments. "Great location, right on the ski hill, above some very happening apres ski bars...."
Have you worked with Sidney Reilly Apartments?
Rate them on SayHola