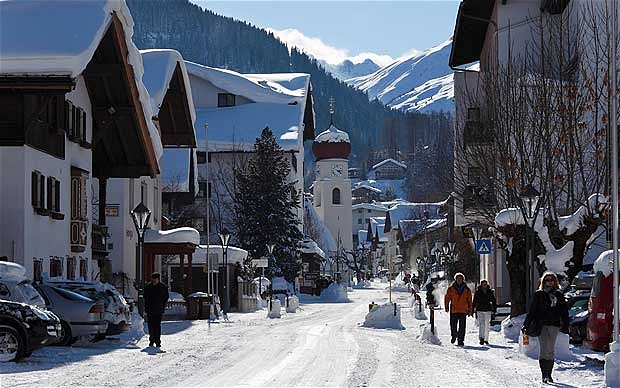 Looking for a large St Anton Chalet – this one could be for you. Located right in the centre of St.Anton we have a large and very high quality Chalet. The main chalet set over three levels has 7 bedrooms and 7 bathrooms and will sleep 15 guests. There is also a studio apartment for two people in the same building and there is the option to add this to the main chalet. This would give you a total of 8 bedrooms & 8 bathrooms right in the very centre of St.Anton. Here in the Dorfstrasse you have all of the bars, restaurants and night spots just seconds away. You are also less than 1 minute from the slopes and the three main St.Anton lifts.
The chalet has been finished to a very high standard and it is the nicest apartment that we have. You will want for nothing if you book this amazing chalet. it has everything that you need to enjoy the perfect ski holiday.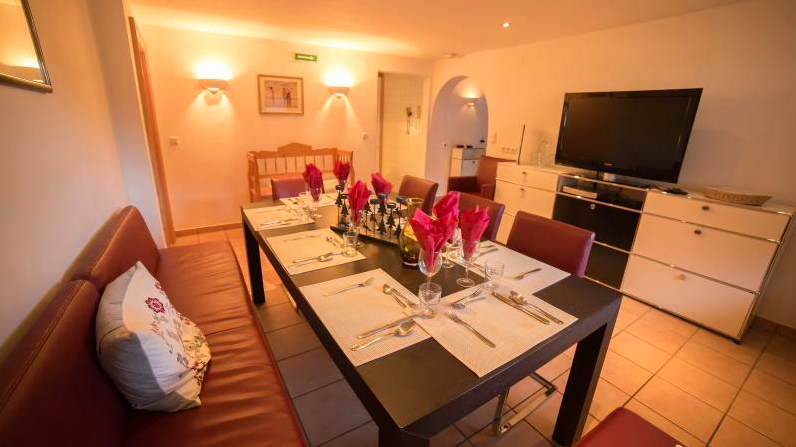 The kitchen is modern and fully equipped with everything that you need for your ski holiday here in St.Anton. You will find Dishwasher, Refrigerator & Freezer, Washing machine, Oven, Microwave, Toaster, Coffee make, Kettle and much more. There is also a good sized dining and seating area with HD Smart TV and DVD player. There is also a smaller, separate seating area with another large flat screen HD TV.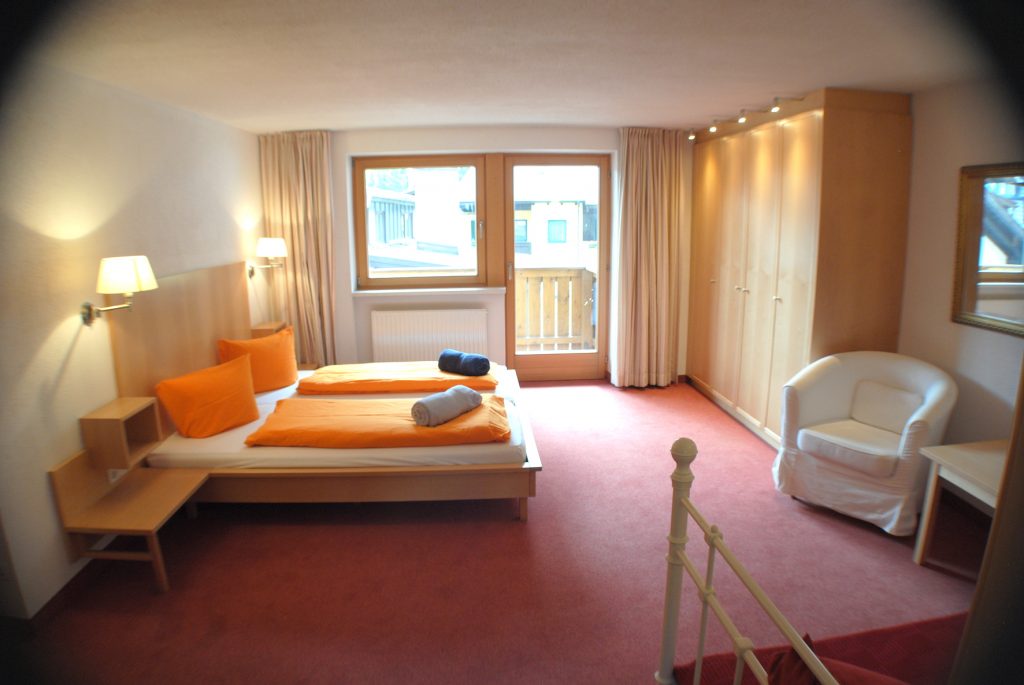 Bedroom 1. In the main chalet we have 7 en-suite bedrooms. There is a very large triple room with a single bed and an Austrian Twin. The Austrian twin is a king size bed frame with two single mattresses, two single duvets and pillows. This is very common throughout Austria and is suitable for two singles or a couple. This bedroom has a large ensuite bathroom with wash basin, toilet & full size bath. The bath also has a shower above it with sliding doors so it converts to a full size shower. There is a large triple wardrobe. The large balcony can be accessed from from this bedroom. There is a large window and do leading to the south facing balcony.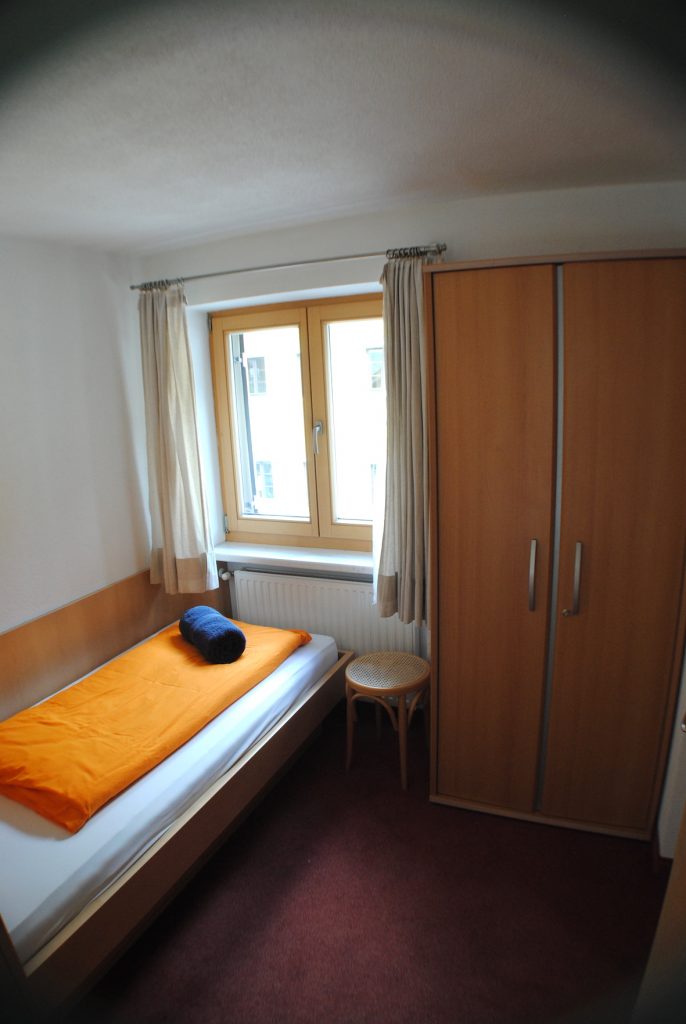 Bedroom 2. this is a single room with standard size single bed. The room has a large window looking out over the St.Anton village centre. You will find a large double wardrobe in this room with plenty of space for all of your clothing and Ski equipment. There is an adjoining shower room with wash basin. Next to the shower room there is a toilet.
Bedroom 3. This is a large bedroom with three single beds. There is also an ensuite shower room and toilet. The shower room has a heated towel rail and wash basin with a large mirror above it. This bedroom has a large window and door leading out onto a second balcony. There is plenty of wardrobe space. You will also find a Smart HD TV in this bedroom.
Bedroom 4. This bedroom can be set up as either a twin with two single beds or as a double rom. Therefore it is suitable for a couple or two singles. Large windows face the pedestrian area giving the room a very airy feel. Again there is a HD smart TV and a large double wardrobe giving plenty of space for your clothing. Finally an ensuite shower room and toilet make this a really great room.
Bedroom 5. This is a large room on the top floor of the chalet. It has large picture windows that are south facing. There is an Austrian twin bed for either two singles or a couple. As with the other bedrooms you will find plenty of space for storage in the large triple wardrobe. There is also a desk and chair next to this wardrobe. The bathroom for this bedroom is not en-suite but just outside the room. The bathroom has a full sized bath with built in shower cubicle.
Bedroom 6. This is another large bedroom with Austrian twin for a couple or two singles. Large windows facing south let plenty of light in and give views towards the mountains. The en-suite has a shower, wash basin and toilet. A good sized mirror is above the wash basin. For storage you will have a triple wardrobe giving you plenty of room.
Bedroom 7. This bedroom has two single beds and a nice ensuite shower room with toilet. There is a large triple wardrobe. Light comes from the skylight in the ceiling as well as from a small window that opens towards the Dorfstrasse. bedside cabinets and reading spotlights above each bed.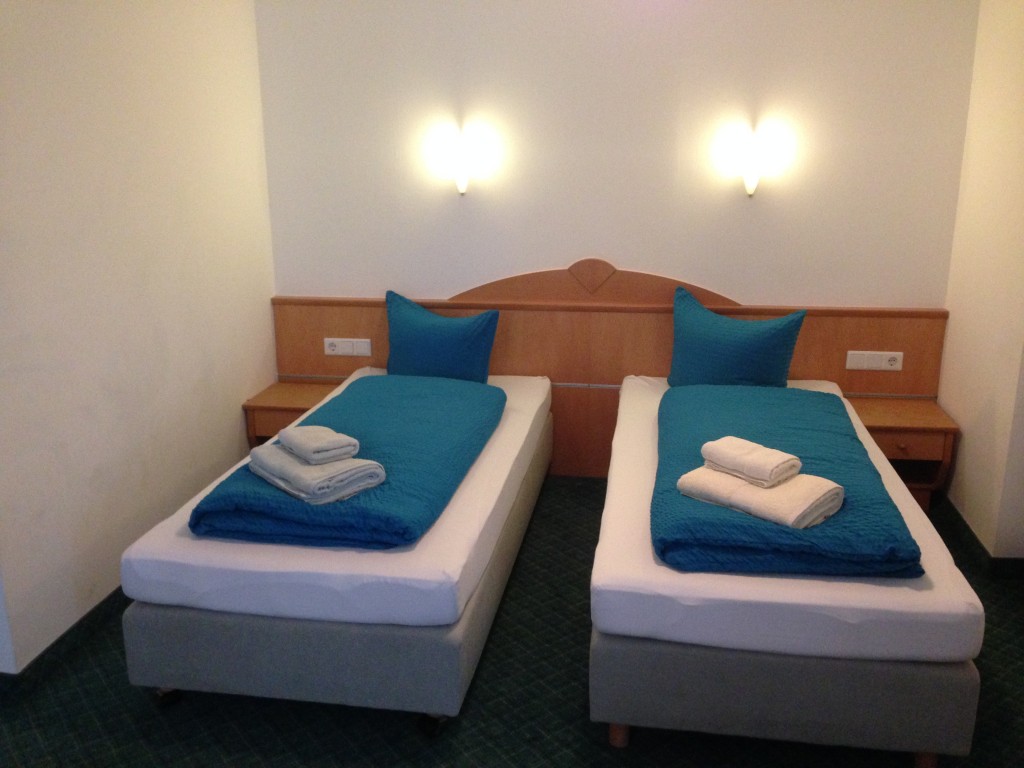 Optional Bedroom 8. If you need it there is the option to have an additional 8th bedroom for two more people. Whilst not in the main chalet it is in the same building. It can be used as either a double for a couple or as a twin for two singles. There is an en-suite shower room and toilet. Plenty of wardrobe space and also a small kitchenette.
What is included.
We of course supply all bed linen, high quality large bath towels & hand towels. You will also find that each bathroom comes equipped with a hairdryer. The kitchen will have salt, pepper, washing up liquid and other cleaning products. Unlimited high speed internet connects throughout the whole of this large chalet. There is also a heated ski and boot storage room where you can safely leave all of your equipment. Please see the gallery below for many more photographs.
Noise
As you will be in the village centre you need to be aware that there can be some noise outside, especially over the new year and main holiday periods. However with this chalet it is not a major problem as most of the bedrooms face away from the street and the double glazed windows keep most of the sound out.
Large St Anton Chalet Location
Being right in the centre of St.Anton this luxury apartment is close to all of the facilities that you need including: The Spa & Wellness Centre, Railway Station, Spar Supermarket, Lift ticket office, Tourist office & Ski School.
Large St Anton Chalet Gallery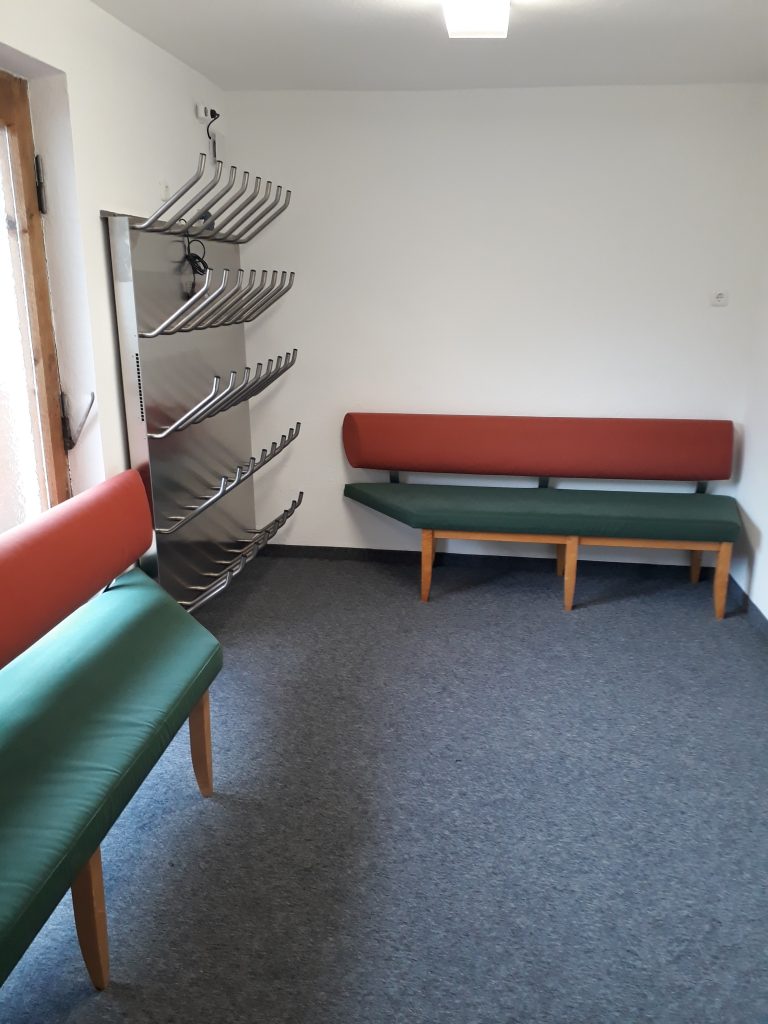 Have you worked with Sidney Reilly Apartments?
Rate them on SayHola